Saturday, June 03, 2006
EX SPICE GIRL MEL-B STAKES HER CLAIM AS THE MOST TATtOOED SPICE GIRL
Ex spice girl has to be the most tattooed spice girl of the whole lot.This English hottie has a Dragon on both her right arm and on her upper back.She also has a chinese inscription on her lower belly.
USHER RAYMOND-AN ODE TO MY EX GIRLFRIEND
R&B maestro Usher raymond has his name tatooed on his upper left arm with a small Knife running throught it his brother james on his upper left calf.Funny enough after losing his virginity to a girl named Karon, Usher got a tattoo of the letter K and a heart on his hand. Why only the letter K ? "I would like to see how he explains that to his future girlfriends.Usher in refering to the tatoo says the tatoo represents a special time in my life "This way I can always hold out for a Keisha or something.
Monday, May 29, 2006
GISELLE BUNDCHEN GOES TATTOO GAGA
This are pictures fom Gisele Bundchen Ipanema ad capaign.She acts as the face for a Brand of sandals that sold close to 50 million slippers in Brazil alone last year.The pictures are pretty hot especially the one with the Paris Hilton over the shoulder look.
OUR FAVOURITE LATINA FIRE CRACKER-
The word Extina is inked at the back of her neck.Good things come in small packages
The Half Ecuadorian Bombshell(on her Fathers sisde) has a tattoo that reads Te Amo Siempre
on her left arm which is directed at her Music producer husband Jordan Bratman.
GISELLE BUNDCHEN -SUPERMODEL ROCKS A STAR ON HER WRIST
Thw supermodel and ex girlfriend of leonardo-Dicarprio rocks a small star on her left wrist together with a belly button ring.Its preety strange for a model to have a tattoo but she's Gisele Bundchen so am sure she gets away with it without any hassles.
ANGELINA JOLIE AND THE INKPRINTS THAT GET TO TOUCH HER EVERYDAY
Miss Jolie has aDragon inked on her upper left Arm.
The tatoo , located on her left shoulder blade, shows ancient Cambodian incantatios written in ancient Khmer, the native language of Cambodia. She got this tattoo apprently to protect herself and Maddox from bad luck and avoid accidents.
The lines read:
May your enemies run far away from you.If you acquire riches, may they remain yours always.Your beauty will be that of Apsara. (a celestial dancer from Khmer mythology)Wherever you may go, many will attend, serve and protect you, surrounding you on all sides.
There is more of her face than the tatoo itself in this picture but we could not care less huba hella damn she's hot.
Angelina Jolie has a 21-31 inch large tiger inked on her lower back.The tatoo was inked by thai tatoo master Sonpong kanphai at an aprtment in Bankok.The tatoo was apparently also blessed in a drawn out 20 minutes ritual.
Saturday, May 27, 2006
NICOLE RITHIE AND HER ANGEL WINGS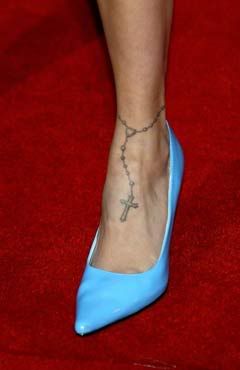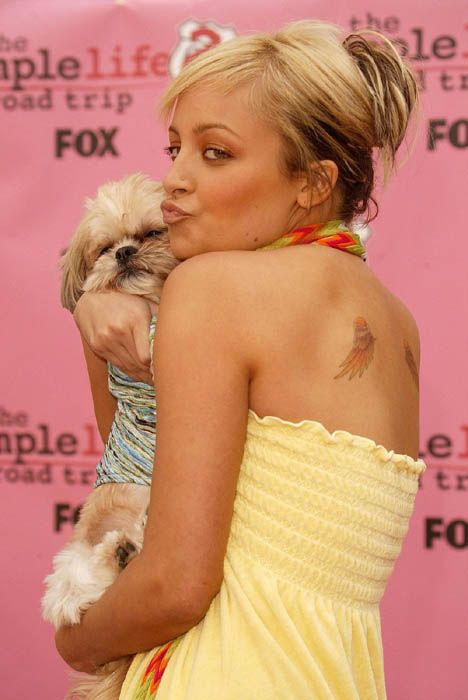 The simple life star and adopted daughter of Lionel Ritchie has Angel wings on her back and a Rosary beads around her ankle which is pretty funny ehrn you think about it.
OZZY OSBOURNE-THE FLAMING BLUE DRAGON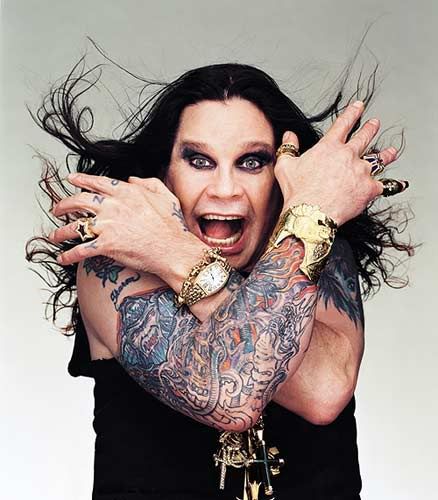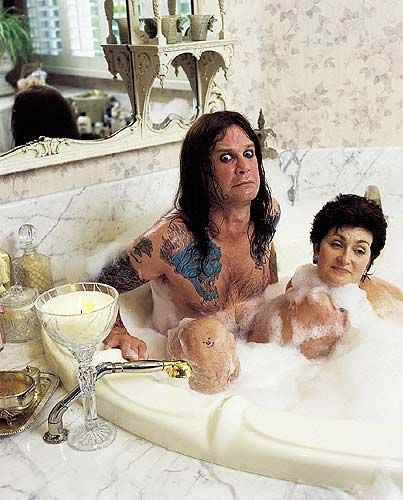 The flaming blue dragon is just one of many tattoos sported by the slightly strange ex Black Sabbath front man and yes that is Ozzy Osbourne taking a bath.

FIFTY CENT-THE G-UNIT KINGPIN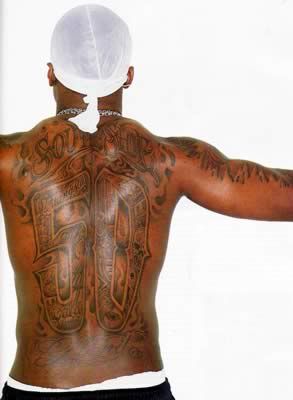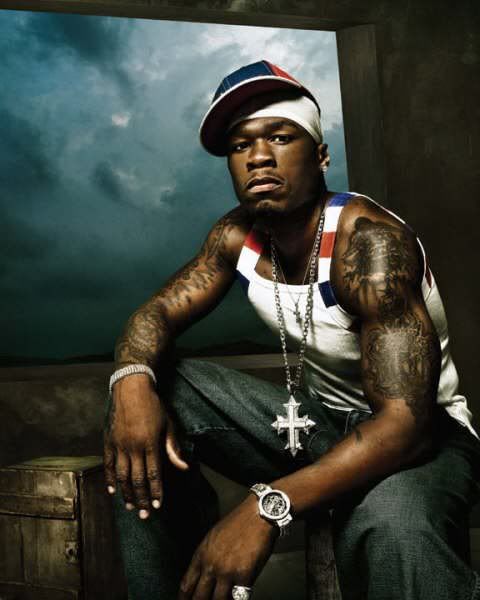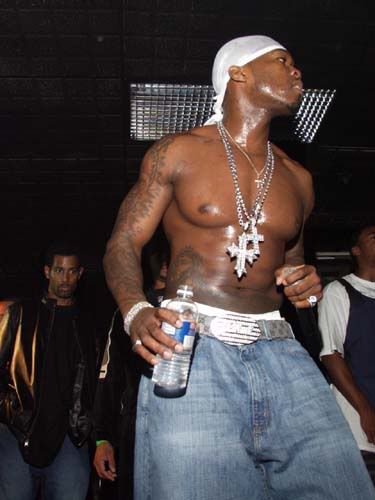 The head of G-unit a.k.a fiddy ak.a Curtis Jackson pays homage to his south Jamaica queens roots and his affiliation to his posse G-unit with the tattoos emblazoned on him.50 was tattooed by California celebrity tattooist Mr Cartoon who incidentally Tattooed Eminem as well.
PINK THE BADDEST CHIC IN POP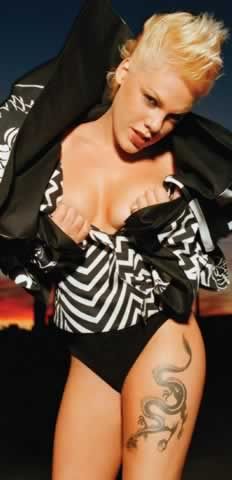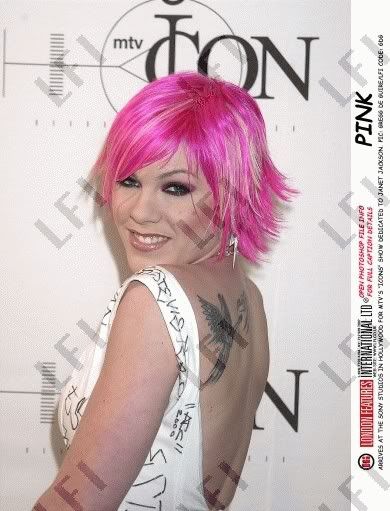 Pink is the female version of punk rocker Travis Barker and has well over a dozen tattoos tattoos ranging from a barcode at the back of her neck to dogtags on her right ankles signifying her affinity to family.
Her varied selection also includes:
1) A razor on her left wrist
2)A heart shaped inspired drawing on her left toe
3)What goes around comes around on her right wrist
TRAVIS BARKER-THE HUMAN INK PAD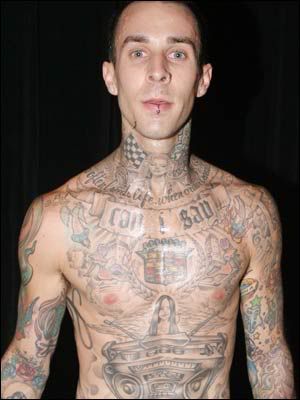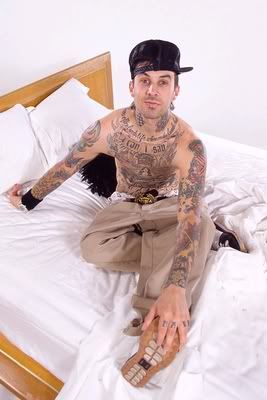 The Former drummer of blink 182 and star of the MTV series Meet the bakers is literally covered in tattoos and has everything thing from a boom box on his upper torso to a picture of his wife on his neck. The boom box is apparently the inspiration for those ludicrously expensive 100 pounds a pop DC shoes.
Friday, May 26, 2006
P-DIDDY-BAD BOY FOR LIFE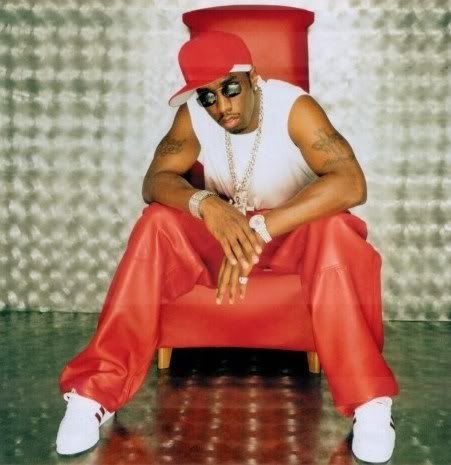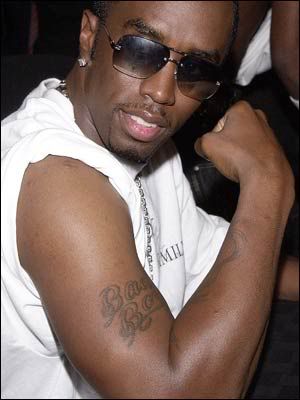 King Of BadBoy Records and head of Sean Jean Clothing seems to have tattoos inscribed with friends,family and religion in mind.His tattoos range from a boldly written Bad Boy on his right arm to a crucifix on his left.Diddy also has a tattoo Gods Child' on his neck and says it represents the role Christ has had in his life.
KEVIN FEDERLINE-BLOOD RUNNING THROUGH MY VEINS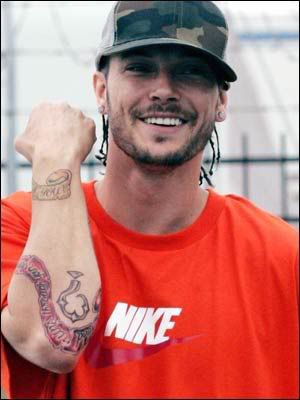 Kevin Federline the husband of Britney spears has a 'your blood running through my veins tattoo under his right elbow. Not sure though whether thats directed at his ex Wife Shar Jackson but apparently the tattoo was imprinted after Tabloids reported a crack in their marriage.K-fed and Britney also hav matching dice tattoos on thier arms.
RAPPER EVE'S UNIQUE BLEND OF TATOOS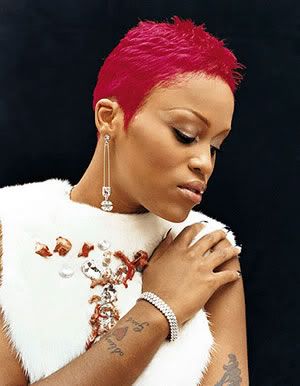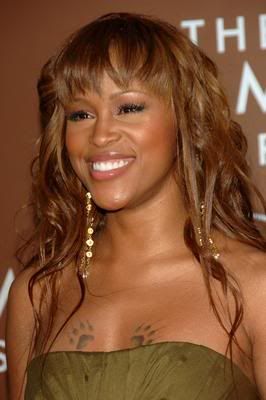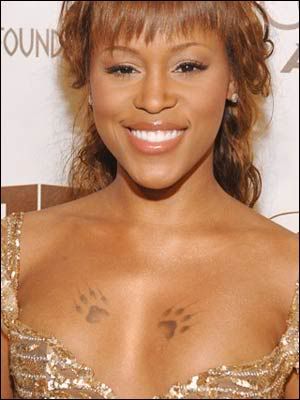 First lady of the Ruff ryders 'Eve' real name Jihan Jeffers has two paw prints on both sides of her bossoms among other tatoos(tatoos on both her left and right arm and another on her upper back) to signify the paws of a pittbull which are prevalent in the group the Ruff ryders a unit she has close ties with.
Thursday, May 25, 2006
CELEB TATOOS -CELEBRATING BODY ART CULTURE
CELEB TATTOOS is powered by Blogspot No part of the content or the blog may be reproduced without prior written permission.